Summer stylings: Getting ready for your summer paint project
July 1, 2014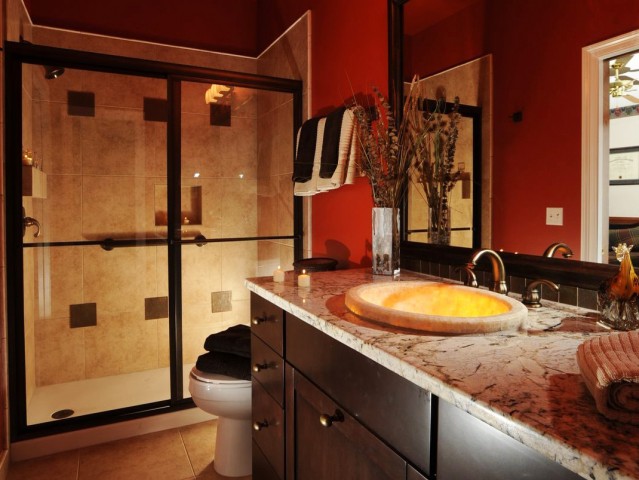 Thinking about sprucing up your home for the summer? Painting and the preparation for painting can be a time-consuming and tedious task, but no worries. We've come up with a few summer painting ideas and tips for the summer to energize and add some character to your home.
Choosing the right colour – Go bold and bright this summer with colours that are vibrant and will be sure to wow your house guests. Vibrant colours are the trend this summer so try out the reds, greens and yellows. If you're not one to make a bold move by using bright paint colours, then another trend that you can definitely rock this summer is the use of pastels and neutral colours such as grey and brown. This way, you can always have a pop of colour in the room with your decor accessories. Try our Colour Visualiser tool to help you choose the right colours.
Whether you're thinking of painting outside or inside the home, the right paint colour should coincide with the room and the room style that you plan to paint. Decide on what rooms you want to paint and move from there. Many homeowners often neglect rooms such as their bathrooms or their kitchens when they take on a paint project. This summer, why not take a step outside of your comfort zone and try something different with your bathroom. You will be the envy of all your friends.
Here's a fun idea, just for the children. The kids will be on summer vacation and will more than likely be home more often. Why not make it more fun for them by dedicating an area (a wall) of your home as their arts and craft section. You can utilize our Sherwin-Williams Dry Erase Clear Gloss Coating. Put this clear coating over any wall and instantly transform it into writing and drawing area for kids. Kids can use any erasable marker to write or draw on walls as often as they like as markings can be removed using a dry cotton cloth or dry eraser. No mess guaranteed.
Alongside choosing the right rooms and the right colours, you should be mindful of these quick tips to ensure that your paint job comes out perfectly.
Avoid rushing to put on a second coat of paint. Double the dry time in hot humid weather before second coat application.
Hydrate and rehydrate. Drink lots of water because you will sweat a lot. Also, don't attempt a major paint project if your health is not up to par.
Allow sufficient time for the coating to dry (approximately 1.5- 2 hours) before sunset. This helps to eliminate "dew striking" a new film and creating an uneven sheen.
Be mindful of maintenance of your home when thinking of your summer paint ideas. If you plan on using bright colours, bear in mind that this means your walls will attract dirt marks easier than other colours.
Be sure to prepare all surfaces to be painted beforehand, gather the right tools to be used and everything should turn out perfectly.
Happy Painting!
Great Decorative Techniques for Your Walls
June 30, 2014

Sometimes, just painting the walls in your home with plain colours can become a bore. Sure, an accent wall or bright-coloured furniture can make a room pop, but have you ever considered trying some decorative techniques that can give your walls more depth and texture? The following techniques will surely give your home the perfect look that you're searching for and in due time everyone will be following suit.
Sponging – As the name suggests, sponging for walls requires the use of a sponge, preferably a sea sponge. With sponging, there are two techniques – additive method or subtractive method.With the additive method, you prepare the paint colours you plan on using. Prepare then paint your wall in the chosen base colour. When you have finished painting, dampen the sponge with water, wring out the excess water until the sponge is only slightly damp and dip in the second colour.Lightly dab colour in a random pattern on your wall and you have a sponge pattern. It's that simple!
With the subtractive method, apply your colour mixture to your walls in sections while you use a clean, dampened sea sponge to pull the colour off the walls to create the effect you want. With the subtractive, it is imperative that you rinse your sponge with clean water and wring frequently.
Frottage Walls – Easy to achieve, and a beautiful finish to any wall is the frottage technique. To achieve this look, you simply add colour to the walls and use a crinkled paper or plastic for the effect. A great tip to consider when doing a frottage wall is, while the paper or plastic is still touching the wall, crinkle it further for a nice finish. Please note that to achieve the best results, you can use two shades of paint; the topcoat of a darker shade (3 times darker) over the basecoat.
Ragging – Ragging on walls gives a similar effect like sponging and it is applied in the same manner, but there's a slight difference with the finished product. With ragging, it is best to use a cloth rag with a distinct pattern that can be left behind on the walls. Just like sponging, you can utilise the additive or subtractive method.
Patterns – If you prefer to stick to just the paint and brush technique, you can always add small details to a wall or two. Techniques such a stripes, polka dots or even wall stencils are a great addition to a room, especially when the right colour combinations are used. Simple step-by-step instructions for these techniques are easily accessible on the Internet.
For more information on the tools you can use to get these effects or for additional assistance, give us a call at 984-2787-9 or visit us at one of our nearest locations. You can also visit our website at www.sherwin-williams.com.jm  to see the array of products we carry.
Super Kem Flat – The Wonder Paint
June 14, 2013
Super Kem Flat Emulsion is one of Sherwin-Williams Jamaica's best-selling products—and for good reason. A premium quality interior/exterior paint, this 100% acrylic latex paint is versatile enough to be used on masonry, concrete, wood, plyboard and wallboard—most of the materials we use in construction here in the Caribbean.
It was strategically formulated in order to provide a range of benefits, including blister and peeling resistance, easy clean up with soap and water, excellent adhesion over painted surfaces in good condition, excellent colour retention, self-priming for repaint on surfaces in good condition. It also dries to the touch in 15 minutes.
Super Kem Flat is available in a wide range of package colours, as well as in over 8,000 colours with the Colorscape ™ System. Purchase it today at a hardware near you!
Sherwin-Williams TV Commercial
June 9, 2013
Check out our new TV commercial below!
Bunny Grant 'happy' house refurbished
May 26, 2012
Former Commonwealth lightweight boxing champion, Bunny Grant, described Labour Day as one of the happiest days of his life after more than 30 persons, drawn from Sherwin Williams (West Indies) Ltd, Tank-Weld Metals, Foska Oats, and the Jamaica Boxing Board of Control, showed up at his home at Weymouth Drive in Washington Gardens, St Andrew, and gave it a complete makeover.
Sherwin Williams paints pretty picture of Women's League
May 23, 2011
SHERWIN Williams, celebrating 10 years of sponsoring the JFF Women's Football League, has announced an increase in its support package for the upcoming 2011 season.