Color Selection Made Easy with Sherwin-Williams COLOR VISUALIZER
Do you need help picking house colors? Use this handy web tool from our Sherwin-Williams website to try out different colors on a digital photograph of your house.
Yes you read right! Say hello to Sherwin-Williams' COLOR VISUALIZER – a web based tool designed to make colour selecting process much easier.
Selecting the right paint color for your house can be a very daunting experience. We often end up spending countless hours going through hundreds of paint chips, finally selecting a color and applying the paint – only to be unhappy with the final result for various reasons. Let Sherwin-Williams help you to not only save time, but also give you the confidence that your final color selection is definitely an awesome choice.
We recommend exploring color options using the Sherwin-Williams COLOR VISUALIZER tool, located right here at www.sherwin-williams.com.jm/
This online tool is designed to get you started in the right color direction, and only involves three easy steps.
Step One
Upload a picture of your project (looking to color your space but don't have a photo? No problem! You can visualize color by choosing one of our interior or exterior scenes).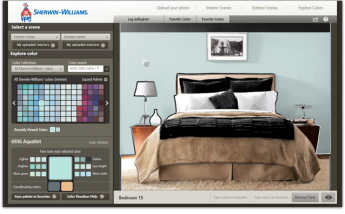 Step Two
Use the drawing tool to highlight areas on the picture where you wish to change the color. The best practice is to block off a large area and change drawing tools to subtract details that you do not want to change color, for instance windows or shutters, it's all up to you. If you chose one of our scenes, you will notice that each scene is pre-marked and ready to paint.
Step Three
Select colors from the Sherwin-Williams online color palette and then paste the color in areas you have previously highlighted.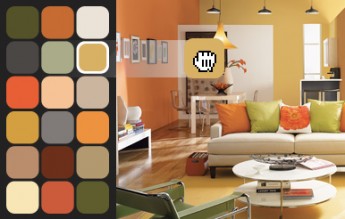 Using a Sherwin-Williams Color Visualizer Scene:
Simply drag and drop a color on a highlighted area. Continue to select drag and drop a new color until you find a shade that's right for you.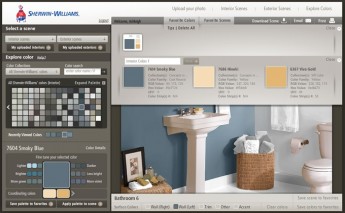 There you have it, as easily as that you can see how colors will blend in – or not – with the rest of your decor. You can explore color combinations to your hearts desire until you achieve the look and feel that speaks to you.
Our Sherwin-Williams Color Visualizer is guaranteed to help you narrow your color choices, order real paint samples and then test the real paint color.
Online tools are a great way to get you started, however the real paint should be tested on the area to be painted and evaluated in natural light.
Not tech-savvy? No worries, Here's a quick tutorial http://youtu.be/Shmcm908Wp8 on how to use our Sherwin-Williams Color Visualizer.
When you are ready to bring your colors to life visit a Sherwin-Williams store near you.