Great Decorative Techniques for Your Walls
June 30, 2014

Sometimes, just painting the walls in your home with plain colours can become a bore. Sure, an accent wall or bright-coloured furniture can make a room pop, but have you ever considered trying some decorative techniques that can give your walls more depth and texture? The following techniques will surely give your home the perfect look that you're searching for and in due time everyone will be following suit.
Sponging – As the name suggests, sponging for walls requires the use of a sponge, preferably a sea sponge. With sponging, there are two techniques – additive method or subtractive method.With the additive method, you prepare the paint colours you plan on using. Prepare then paint your wall in the chosen base colour. When you have finished painting, dampen the sponge with water, wring out the excess water until the sponge is only slightly damp and dip in the second colour.Lightly dab colour in a random pattern on your wall and you have a sponge pattern. It's that simple!
With the subtractive method, apply your colour mixture to your walls in sections while you use a clean, dampened sea sponge to pull the colour off the walls to create the effect you want. With the subtractive, it is imperative that you rinse your sponge with clean water and wring frequently.
Frottage Walls – Easy to achieve, and a beautiful finish to any wall is the frottage technique. To achieve this look, you simply add colour to the walls and use a crinkled paper or plastic for the effect. A great tip to consider when doing a frottage wall is, while the paper or plastic is still touching the wall, crinkle it further for a nice finish. Please note that to achieve the best results, you can use two shades of paint; the topcoat of a darker shade (3 times darker) over the basecoat.
Ragging – Ragging on walls gives a similar effect like sponging and it is applied in the same manner, but there's a slight difference with the finished product. With ragging, it is best to use a cloth rag with a distinct pattern that can be left behind on the walls. Just like sponging, you can utilise the additive or subtractive method.
Patterns – If you prefer to stick to just the paint and brush technique, you can always add small details to a wall or two. Techniques such a stripes, polka dots or even wall stencils are a great addition to a room, especially when the right colour combinations are used. Simple step-by-step instructions for these techniques are easily accessible on the Internet.
For more information on the tools you can use to get these effects or for additional assistance, give us a call at 984-2787-9 or visit us at one of our nearest locations. You can also visit our website at www.sherwin-williams.com.jm  to see the array of products we carry.
Super Kem Flat – The Wonder Paint
June 14, 2013
Super Kem Flat Emulsion is one of Sherwin-Williams Jamaica's best-selling products—and for good reason. A premium quality interior/exterior paint, this 100% acrylic latex paint is versatile enough to be used on masonry, concrete, wood, plyboard and wallboard—most of the materials we use in construction here in the Caribbean.
It was strategically formulated in order to provide a range of benefits, including blister and peeling resistance, easy clean up with soap and water, excellent adhesion over painted surfaces in good condition, excellent colour retention, self-priming for repaint on surfaces in good condition. It also dries to the touch in 15 minutes.
Super Kem Flat is available in a wide range of package colours, as well as in over 8,000 colours with the Colorscape ™ System. Purchase it today at a hardware near you!
Sherwin-Williams TV Commercial
June 9, 2013
Check out our new TV commercial below!
Bunny Grant 'happy' house refurbished
May 26, 2012
Former Commonwealth lightweight boxing champion, Bunny Grant, described Labour Day as one of the happiest days of his life after more than 30 persons, drawn from Sherwin Williams (West Indies) Ltd, Tank-Weld Metals, Foska Oats, and the Jamaica Boxing Board of Control, showed up at his home at Weymouth Drive in Washington Gardens, St Andrew, and gave it a complete makeover.
Sherwin Williams paints pretty picture of Women's League
May 23, 2011
SHERWIN Williams, celebrating 10 years of sponsoring the JFF Women's Football League, has announced an increase in its support package for the upcoming 2011 season.
Colour Changing Paint
March 7, 2009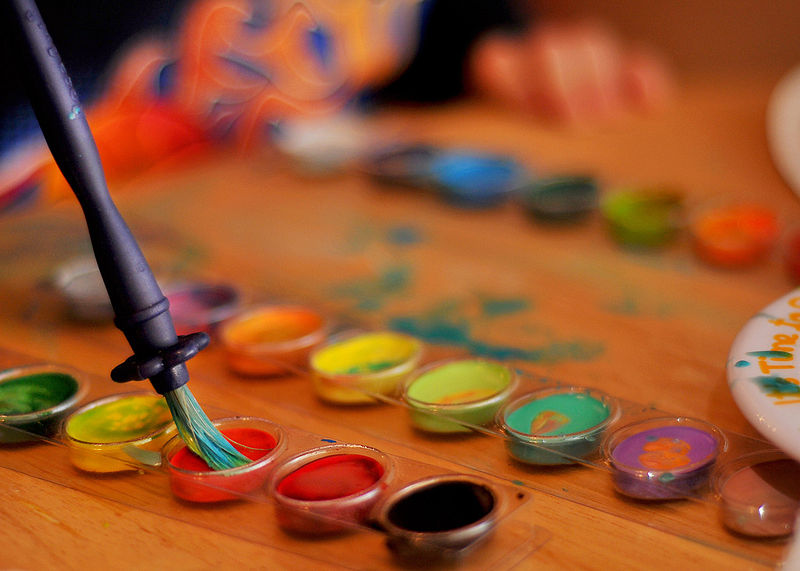 Various technologies exist for making paints that change color. Thermochromic paints and coatings contain materials that change conformation when heat is applied, and so they change color. Liquid crystals have been used in such paints, such as in the thermometer strips and tapes used in aquaria. Photochromic paints and coatings contain dyes that change conformation when the film is exposed to UV light, and so they change color. These materials are used to make eyeglasses.
Color changing paints can also be made by adding halochrome compounds or other organic pigments. One patent[7] cites use of these indicators for wall coating applications for light colored paints. When the paint is wet it is pink in color but upon drying it regains its original white color. As cited in patent, this property of the paint enabled two or multiple coats to be applied on a wall properly and evenly. The previous coat/s having dried would be white whereas the new wet coat would be distinctly pink. Ashland Inc. introduced foundry refractory coatings with similar principle in 2005[8][9] for use in foundries.
Electrochromic paints change color in response to an applied electric current. Car manufacturer Nissan has been reportedly working on an electrochromic paint, based on particles of paramagnetic iron oxide. When subjected to an electromagnetic field the paramagnetic particles change spacing, modifying their color and reflective properties. The electromagnetic field would be formed using the conductive metal of the car body.[10] Electrochromic paints can be applied to plastic substrates as well, using a different coating chemistry. The technology involves using special dyes that change conformation when an electric current is applied across the film itself. Recently, this new technology has been used to achieve glare protection at the touch of a button in passenger airplane windows.