Barbican FC to face Los Perfectos in Sherwin Williams Colour Scape KO finals
Shouts of GOAL rippled across the Anthony Spaulding Sports Complex at Saturday's Sherwin-Williams Color Scape KO semi-finals playoff. Defending Champions Barbican FC were up against Portmore Strikers FC while Los Perfectos faced off against Waterhouse FC.
The win was Barbican's 50th stretching back from 2011. Barbican raced to a comfortable four to nil lead in the first half an hour. Tashana Vincent lead the goal scoring spree with 4 goals taking her tallying in all competitions to 24; seven of those coming against Rangers FC.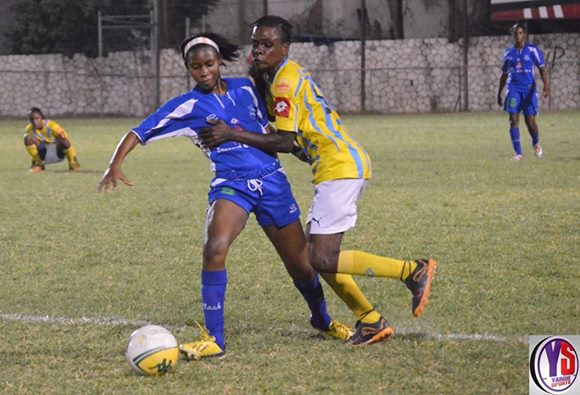 Photo Credit: Yardie Sports
The other goal scorers; Tashieka Small scored in the 31st minute, Shanique Smith in the 38th and Davia Smith in the 41st. Portmore Strikers scored an own goal in the 73rd minute empowering Barbican's victory streak. Their scores continued to soar as Tremaine Brown, Shee Ann Sergeant, Ashlee Sawyers and Rochelle Bryan scored one goal apiece; ending the semi-finals with Barbican 12 goals to nil.
Los Perfectos defeated Waterhouse 3 – 2 to secure their spot in the Sherwin-Williams Color Scape KO finals.
Will Barbican FC become the first team to win all three titles in four seasons? Find out on October 25th when the defending champions Barbican FC face Los Perfectos FC.