Snap-It Labour Day Competition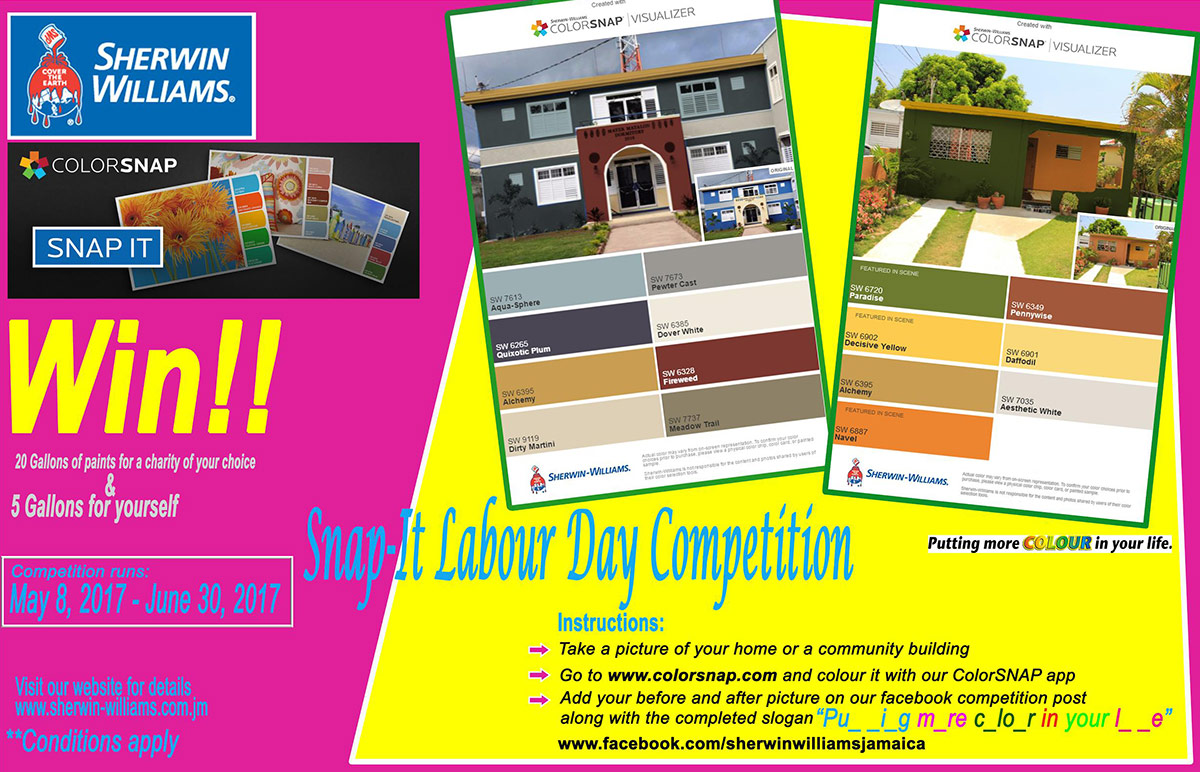 Competition Rules
The following are the rules for this competition.
Click here to post your entry
Competitors will be required to:
Take pictures of their home or community buildings (*Unauthorized use of images strictly prohibited)
Use Sherwin-Williams online color tool "ColorSNAP" to apply colors from SW paint charts to the picture
Add a comment as well as a before and an after picture attachment to our Facebook post of the competition
Comment should include:

the completed slogan "P u _ _i _ g m _ r e c _ l o _ r i n y o u r l _ _e"
the county to which the competitor belongs and
the charity or non-profit organization to which they wish to donate the alternate prize

Competitors are encouraged to get persons on their friends list to like their comments and virtual paint jobs on S-W Jamaica Facebook page.
Multiple entries are allowed per competitor.Before and after images must be uploaded with the properly completed slogan as a comment.If images appear identical to another competitor's the latest upload will be disqualified.

Posts must include the name of a single recognized charity or non-profit organization.

Employees of Sherwin-Williams and their family members are not eligible winners and should not enter the competition.

Picture of buildings other than those owned or occupied by the competitor or the charity or non-profit organization or those published on Sherwin-Williams (WI) Limited websites are strictly forbidden.

The "Sherwin-Williams Painter's Choice" selection will be made by the Managing Director Sherwin-Williams (WI) Limited in consultation with members of the SW Promotions team.
Click here to post your entry
Prize & Selection of Winners
One prize offering to one winner for each county. All three prizes are of similar value and content.
Winners will be selected based on the largest number of Facebook likes associated with the uploaded images and comment at the time the draw is closed.
Each like will be awarded as One (1) point to the competitor. An additional 100 points will be awarded to the "Sherwin-Williams Painter's Choice" for each county.
Each prize will be awarded in two parts to the competitor and their charity:
Awarded to the competitor
Quantity of one, five gallon buckets of Sherwin-Williams decorative paint products of the KEM Flat line
One Deluxe Roller Sets
One 6″ Paint brush
One 3″ Paint brush
Awarded to the Competitor's Charity selection
Quantity of four, five gallon buckets of Sherwin-Williams decorative paint products of the KEM Flat line
Three Deluxe Roller Sets
One 6″ Paint brush
One 3″ Paint brush
Date of Selection
Winners for all three counties will be selected on July 7, 2017
Winners will be notified via inbox message to their Facebook accounts
Winner's Facebook name will be published on the Sherwin-Williams Jamaica Facebook page
Prizes must be claimed by July 31, 2017
Get Sherwin-Williams ColorSNAP Visualizer
Desktop users
https://www.sherwin-williams.com/visualizer/#/active
Android users
https://play.google.com/store/apps/details?id=com.colorsnap
iPhone users
https://itunes.apple.com/app/colorsnap-visualizer-for-iphone/id316256242?mt=8
iPad users
http://www.sherwin-williams.com/homeowners/color/try-on-colors/color-snap-studio-for-ipad/
---
Click here to post your entry