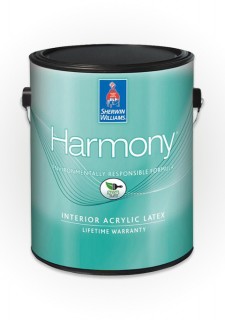 Harmony Interior Latex Paint
Harmony Interior Latex Paint is a 100% acrylic coating that provides a durable, low odour, anti-microbial, interior paint formulated without silica.
You can use this product in occupied areas because of the very low odor during application and drying. In addition, this product is specially formulated with odor-reducing properties to help reduce common household odors.
This new innovation is the first of its kind in the coating industry. Now, along with reducing indoor odours, Harmony Clean Air Technology will actually reduce the levels of harmful VOCs such as Formaldehyde and Aldehydes in the air, which helps promote better indoor air quality. It has been tested by outside third party labs to confirm the efficacy of this new innovative technology.
Harmony is available in a wide variety of colours.