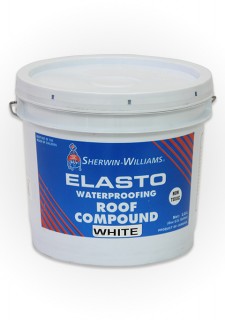 S-W Elasto Waterproofing Roof Compound
An elastomeric emulsion coating, which dries to give a flexible water-proofing finish on all types of roofs. It provides excellent durability and weather-resistance.
Characteristics
Stops leaking roof
Low sheen
Dries to touch in 2 hrs
Recoat in 24 hrs
Clean up with water.
Spread rate 45 sq. ft. per gal @ 35 mils wet, 20 mils dry
Four factory packaged colours: white, oxford grey, red brown and dark permanent green.