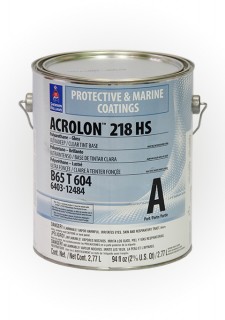 Acrolon 218 HS Acrylic Polyurethane
Acrolon 218 HS acrylic polyurethane is a low VOC, polyester modified, aliphatic, acrylic polyurethane formulated specifically for in-shop applications. Also suitable for industrial applications. A fast drying urethane that provides colour and gloss retention for exterior exposure.
Can be used directly over organic zinc rich primers (epoxy zinc primer and moisture cure urethane zinc primer)
Colour and gloss retention for exterior exposure
Fast dry
Outstanding application properties
Recommended Usage
For use over prepared metal and masonry surfaces in industrial environments such as:
Structural steel
Tank exteriors
Rail cars and locomotives
Pipelines
Conveyors
Ships
Bridges
Offshore platforms – exploration and production
Suitable for use in USDA inspected facilities
Conforms to AWWA D102 Outside Coating Systems #4 (OCS-4)
#5 (OCS-5) & #6 (OCS-6)
Acceptable for use in high performance architectural applications.