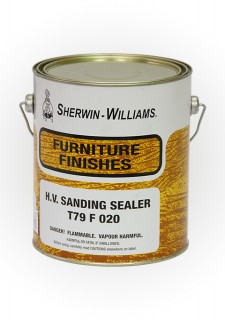 H.V. Sanding Sealer
A general purpose Nitrocellulose Sanding Sealer for all types of wood.
Characteristics
Fast-drying
Excellent sanding ability
Pale translucent amber colour
Dries to touch in 10 mins.
Available for recoat in 20 mins.
Available for sanding in 20 mins.
Spread rate is 252 sq. ft. per gal @ 1mil dry film thickness.
Interior use
Application / Reduction:
Apply 2-3 coats allowing flash time between coats.
Mix 2 parts sealer with 1 part lacquer thinner, R7K108 or R7K128.