Community Involvement
The Sherwin-Williams brand goes further than just colours, varieties and applications. At our heart, we're all about caring. Caring for the people, the environment, the animals, and other living things with whom we share our planet.
This is why Sherwin-Williams has, since its inception, given back to the community. For the past few years, we have partnered with Television Jamaica's The Susan Show to offer free home makeovers to disenfranchised persons during the Christmas Season. Additionally, each year on Labour Day, we collectively decide on and complete a charitable project.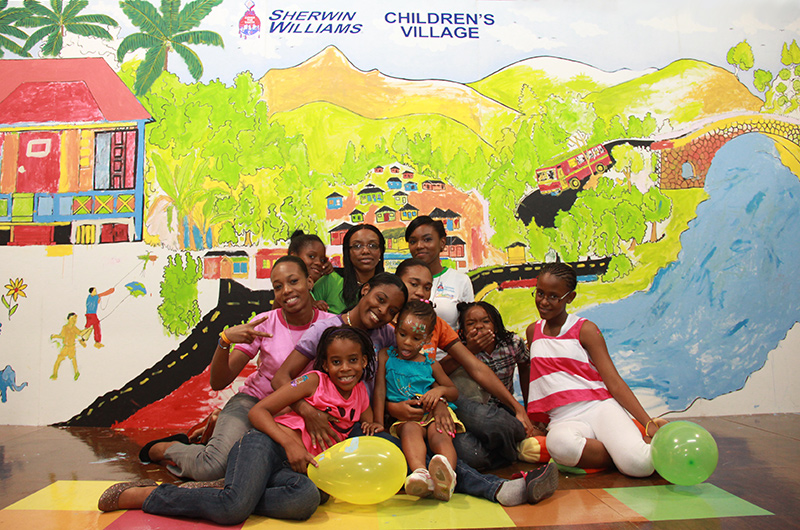 Sponsor – Jamaica Football Federation/Sherwin-Williams Women's Football Team Premier League & Colourscape Knockout Competition from 2001.
Sherwin-Williams (W.I.) Ltd. is proud sponsor of the Jamaica Football Federation Women's League which consists of 12 clubs from across the island, namely Barbican, Waterhouse, GC Foster College, Los Perfectos, Trelawny Women's, Arnett Gardens, Portmore Strikers, Santos, UWI, Women's, Harbour View, St. Thomas Strikers and Olympic Gardens. A large number of the members are on the country's national team.
Our sponsorship has assisted in the National Team successes. Their biggest win was on October 5, 2007 when they hammered Antigua and Barbuda 10-0. They have qualified for two Women's Gold Cup tournaments placing fourth at the 2006 championships.
Partnership with Possibility Programme whereby 'Street Boys' are trained at our Training Centre
The Possibility Programme is an initiative of the Office of the Prime Minister. The programme is collaborative effort between the Government, Non-Government Organizations, and members of the Private Sector aimed at providing resources and support for street children and vulnerable youths with particular focus on those who wash windshields/hustle at major intersections in the Kingston Metropolitan Area.
The company have assisted with training of approximately 50 young men some who have now gained employment in some of our customer's establishment and other companies. Two are presently with Sherwin-Williams (W.I.) Ltd.
White Marl Primary & Junior High School
Sherwin-Williams has been associated with White Marl Primary & Junior High School for many years so much so that a house is named in the company's honour. Apart from making monetary contribution, donation of paints and other products, our employees have been actively involved in activities such as Sports Day and most recently their "Reading Day" where staff read to a class.
United Way of Jamaica
Sherwin-Williams (W.I.) Ltd. has been actively engaged in nation building by working closely with the United Way of Jamaica which is a dynamic, people oriented, non-partisan organization providing services for strengthening other organizations within the voluntary sector and bringing together donors, volunteers and agencies for the ultimate benefit of disadvantaged persons at the national and community levels.
The company is involved in their workplace philanthropy which is a fundraising strategy of United Way allowing employed person the opportunity to support the work of the private voluntary sector through payroll deductions.
Sherwin-Williams (W.I.) Ltd. has not only been making monetary contribution but have been offering service as one of our Managers has always served as a volunteer or sits on the Executive Committee of the organization. Presently, our Managing Director, Ian Forbes is Chairman of the organization.
Sponsor St. Catherine Cricket Association Knock Out Cricket Competition since 2002 and Twenty/20 Cricket Competition from inception in 2011.
The St. Catherine Cricket Association is the governing body for cricket in St. Catherine and seeks to promote the game of cricket and foster a better relationship amongst those who live in the various communities. They have over the years provided a kind of nursery from which has sprung several national and international stars.
Event Sponsor – Gibson Relays, ISSA Boys & Girls Championship, ISSA Inter-Prep School Track & Field Championship
Sherwin-Williams (W.I.) Ltd. is cognizant of the importance of athletes to showcase their talents in the right environment and is therefore proud to be event sponsor of 3 of the premier athletic championships in Jamaica for almost 10 years.
Race car sponsor – Doug Gore
Sherwin-Williams (W.I.) Ltd. has been associated with motor racing for many years, and has been sponsor for Doug Gore since 2000. Doug has not only competed locally and in the Caribbean but is also an international competitor. He has won a number of championships over the years.
Partner with Home Make-Over and Christmas Promotion with "the Susan Show"
Sherwin-Williams (W.I.) Ltd. believes in reaching out to the less fortunate in our society and being a good corporate citizen and has been partnering with "the Susan Show" to do so. Numerous families have been assisted with getting their homes back into a liveable condition and getting their lives back together through contribution and service of the company and its dedicated employee.
White Marl Business District – members of group are Sherwin-Williams (W.I.) Ltd., Wisynco Group, Hi-Pro, Lasco
The White Marl Business District was formed about 5 years ago and comprises of companies in the area joining together to maintain dialogue and assist the surrounding communities. An annual Fun Day is held in December.
Other Staff Involvement
Employees and members of the SW Women's Resource Group, which was formed in April 2012, participated in a Labour Day Project at the home of Mr. Bunny Grant a former National Jamaican Boxer. There are plans to do other community projects in the future
Annual Christmas visit by employees to St. Monica's Home for the Aged where employees interact and present gifts
Employees have been engaged in other community projects such as painting of pedestrian crossings, schools and home for the aged
Donations
Paint donation to projects for educational institutions, organizations, communities, churches, non-profit organizations, etc.
Donates branded drums to schools, communities and organizations to be used for garbage collection